Manufactured Products
We strive to meet the growing standards of the industry through developing original methods
in manufacturing parts. We pride ourselves in maintaining a reputation for honest dealings, integrity, and commitment to standing behind all our work. All our manufactured parts offer the following attributes:
Upgraded designs from OEM models to improve service life and durability
Popular components stocked for immediate delivery
Very competitive pricing on all parts
Manufacturing Parts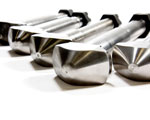 TWISTLOCK PINS: CNC machined from AISI 4340 heat-treated forgings, they have full traceability back to bar stock that forgings are produced from. All pins are pull tested, certified, serially numbered and can be furnished with or without nuts.  The headblock twistlocks are machined from forgings when size permits.  Larger diameter pieces are machined from AISI 4340 HT bar stock, pull tested, certified, and serially numbered.
TWISTLOCK GUIDES: CNC machined from solid 4140 heat treated bar stock for highly improved service life and durability. This allows for 2-3 times the service life when compared to the standard OEM castings. And this is made possible with only a marginal increase in price.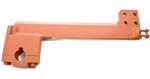 FLIPPERS: Are available as complete assemblies, or as parts:
Flipper Bases/Yokes:  Superior quality to OEM's.  Jig fabricated and CNC machined.  Many models are structurally upgraded for extended life and durability.
Flipper Shoes:  Upgraded for strength, heavily reinforced,
jig-fabricated and CNC machined.
Flipper Bars:  CNC machined for a perfect fit. They can be manufactured from spring steel, T-1 plate or a material of your choice with many popular models in stock.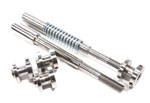 SENSOR RODS/LAND PINS/PLUNGERS:
CNC machined from heat treated 4140 bar stock for toughness providing a longer life. They
are available as individual pins or with spool nuts
and/or springs.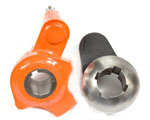 TWISTLOCK ACTUATORS ("PORK CHOPS"): We manufacture all
makes and models to OEM specs, which are competitively priced.
We keep popular models stocked.
CYLINDER RODS: Replacement twistlock actuating cylinder rods
CNC machined as per OEM specs. 
SLAP BLOCKS AND SLAP ROLLERS: Machined from UHMW or Nylon as per OEM spec or upgraded to thicker wall/longer life as needed. We keep the popular models in stock.
ECCENTRIC TROLLEY SIDE ROLLERS: For gantry cranes and RTG/RMG. 
FESTOON WHEELS: CNC machined replacements with superior urethane tires.  The reconditioned wheels have the same long life urethane tires.  We also recondition Festoon cars/wheels, systems.
GANTRY WHEELS/TROLLEY WHEELS: Complete wheels and shafts to meet or exceed OEM specs.  The Catenary Trolley wheels are manufactured as per OEM or upgraded specs.
SHEAVES: Custom sheaves machined from steel or nylon. Worn Sheaves re-profiled, with flame-hardened rope grooves.